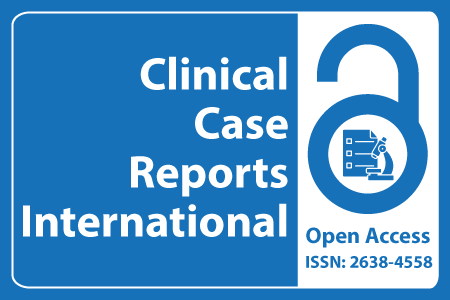 Journal Basic Info
Impact Factor: 0.285**
H-Index: 6
ISSN: 2638-4558
DOI: 10.25107/2638-4558
**Impact Factor calculated based on Google Scholar Citations. Please contact us for any more details.
Major Scope
Urology
Gastroenterology
Respiratory Medicine
ENT
Allergy & Immunology
Dentistry and Oral Medicine
Family Medicine and Public Health
Nuclear Medicine
Abstract
Guofa Yu, Yinguo Du and Zhebing Qiu
Yu G, Du Y, Qiu Z. Gastritis Cystica Profunda: A Case Report and Literature Review. Clin Case Rep Int. 2020; 4: 1135
PDF Full Text Case Report | Open Access
Abstract:
Gastric Cystica Polyposa (GCP), a rare disease characterized by multiple cystic lesions in mucosa and/or sub mucosal layer, usually occurs in previously operated stomachs. The non-specific clinical symptoms and radiographic appearance make diagnosis difficult without postoperative pathological results. This report aims at providing a comprehensive overview on all GCP cases reported to date. A comprehensive literature search (1972-2014) was conducted for all reported GCP cases, including one case from our group retrospectively. Keywords searched included gastritis cystica profunda, submucosal cysts of the stomach, and heterotopic submucosal gastric glands. A total of 52 cases was found, including 37 (71.2%) men and 15 (28.8%) women (M/F ratio =2.5). The overall mean age was 59.9 (range 39-91) years. Among them, 58.8% (n=30) were located in the body, 25.5% (n=13) in the fundus, 19.6% (n=9) in the antrum, 3.9% (n=2) in the cardia and occasionally one case in the prepyloric lesion and one case in anastomotic site. 52% (n=26) of cases had prior gastric surgery. The main clinical symptoms included abdominal pain (n=14, 36.8%) and gastrointestinal bleeding (including hematemesis and melena, n=7, 18.4%). Among overall 52 cases, only 7.7% (4) were diagnosed before surgery, and the rest were diagnosed during postoperative histopathologic examination. In conclusion, GCP is difficult to be preoperatively correctly diagnosed due to being relatively rare and lack of typical clinical symptoms. The correct diagnosis should depend on histopathological examination. Complete surgical removal of the GCP is widely considered as the best treatment option.
Keywords:
Gastritis cystica profunda; Cystic lesion; Submucosal cysts; Heterotopic submucosal gastric
Cite the Article:
Department of Gastrointestinal Tumor Surgery, Zhejiang University School of Medicine, China.
Search Our Journal
Journal Indexed In