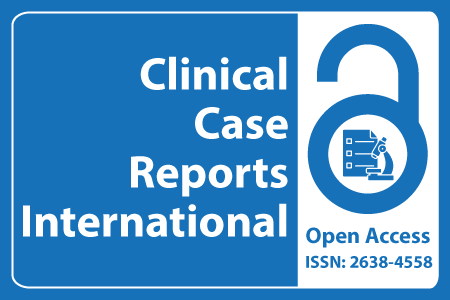 Journal Basic Info
Impact Factor: 0.285**
H-Index: 6
ISSN: 2638-4558
DOI: 10.25107/2638-4558
**Impact Factor calculated based on Google Scholar Citations. Please contact us for any more details.
Major Scope
Orthopedics & Rheumatology
Cardiovascular
Preventive Medicine
Neonatology
Urology
Forensic and Legal Medicine
Infectious Disease
ENT
Editorial Board
Clinical Case Reports International is an Open Access and multifaceted journal with the support of Editorial Board Memebers from various fields.
Arzu Didem Yalçýn, MD, Medical Science University, Turkey
Arzu Didem Yalcyn, Medical Science University, Turkey
Ganjalikhani M Hakemi, Isfahan University of Medical Sciences, Iran (Islamic Republic of)
Carlos Sanchez Salguero, University Hospital Puerto Real, Spain
Byoung S. Kwon, Tulane University School of Medicine, United States
Jasmit Minhas, Lahey Hospital & Medical Center, United States
Jacek Smereka, UMED Lodz, Poland
Rohit Saluja, All India Institute of Medical Sciences, India
Nancy Agmon-Levin, Tel-Aviv University, Israel
Manti Sara, University of Messina, Italy
Papadopoulou-Alataki Efimia, Aristotle University of Thessaloniki, Greece
Ervin Mingomataj, University of Tirana, Albania
Gunhyuk Park, Daegu Haany University, Korea, Republic of
Gholamreza Azizi, Tehran University of Medical Sciences, Iran (Islamic Republic of)
Lombardi Carlo, Fondazione Poliambulanza Hospital, Italy
Petra Staubach-Renz, University Medical Center Mainz, Germany
Sutep Jaruratanasirikul, Prince of Songkla University, Thailand
Andres Emmanuel, University of Strasbourg, France
Shockrolla Farrokhi, Bushehr University of Medical Sciences, Iran (Islamic Republic of)
Vanya M Tsvetkova-Vicheva, Medical University of Pleven, Bulgaria
Harry W. Schroeder Jr, University of Alabama at Birmingham, United States
Ewelina Grywalska, Medical University of Lublin, Poland
Tsvetelina Velikova, University Hospital Lozenetz, Bulgaria
Pradipta Bhakta, St. Vincent′s University Hospital, Ireland
Yuanhai Li, Anhui Medical University, China
Zhang Zong Wang, Liaocheng People's Hospital, China
Pietro Bertini, Royal Brompton Hospital, United Kingdom
A. Sassan Sabouri, Massachusetts General Hospital, United States
Sadhana Sathaye, Institute of Chemical Technology, India
Davut Ozbag, Kahramanmaras Sutcu Imam University, Turkey
Ljiljana Gvozdenovic, University of Medicine, Serbia
Nasser Khalf Awad, EgyptResearcher at National Research Center, Egypt
Alexandre de Souza e Silva, University Center of Itajuba, Brazil
Pablo I. Altieri, University of Puerto Rico, Puerto Rico
Anbarasan Chakrapani, Dr.K.M.Cherian Heart Foundation, India
Nahid Aghdaii, Shaheed Rajai Cardiovasular Medical Center, Iran (Islamic Republic of)
Akira Sugawara, Tohoku University, Japan
Alfredo Cordova Martinez, University of Valladolid, Spain
Amaya García Fernandez, General University Hospital of Alicante, Spain
Ahmet Sen, Recep Tayyip Erdogan University School of Medicine, Turkey
Alessandro Roggeri, ProCure Solutions, Italy
Abeer Rababa'h, Jordan University of Science and Technology, Jordan
Alfio Ferlito, Udine University, Italy
Ahmed Abdel-Fattah Mohamed Ramadan, Suez Canal University, Egypt
Ambarkova Vesna, University Dental Clinic Center Saint Pantelemon, Macedonia
Andrea Ballini, University of Bari, Italy
Almiro Machado, University of Milan, Italy
Alessandra Barassi, University of Milan, Italy
Andrew Adinorte Boryor, Hospital of the Ludwig-Maximilians, Germany
Cansu Alpaslan, Gazi University, Turkey
Cecilia Young, Chinese Federation of Travel Agency, Hong Kong
Metin Calisir, Adiyaman University, Turkey
Camila S. Sampaio, Universidad de los Andes, Chile
Ciro Gilvetti Dip, Queen Victoria Hospital, United Kingdom
Maria Giulia Cristofaro, Magna Gracia University of Catanzaro, Italy
Patricia Ramos Cury, Federal University of Bahia, Brazil
Carmen Cantisani, Sapienza University of Rome, Italy
Nicola di Meo, University of Trieste, Italy
Hyun-Min Seo, The Catholic University of Korea, Korea, Republic of
Gwo-Shing Chen, University Chung-Ho Memorial Hospital, Taiwan
Arash Taheri, Wake Forest School of Medicine, United States
Jacek C. Szepietowski, Wroclaw Medical University, Poland
Selda Pelin Kartal Durmazlar, Diskapi Yildirim Beyazit Training and Research Hospital, Turkey
Adam Reich, Wroclaw Medical University, Poland
Oleg Nadashkevich, Lviv National Medical University, Ukraine
Veronica Bellini, University of Perugia, Italy
Julieta Ruiz Beguerie, Austral University, Argentina
Sanita Zigure, Children Clinical Hospital Riga, Latvia
Omeed Memar, Academic Dermatology and Skin Cancer Institute, United States
Samuel Abariga, Massachusetts Institute of Technology, United States
Emin Turkay Korgun, Akdeniz University, Turkey
Gerry H. Tan, Cebu Doctors' University , Philippines
Rizwan Ahmad, University of Dammam, Pakistan
Judie Arulappan, #, Oman
Taher Mohammed Mohiuddin, Umm-Al-Qura University, Saudi Arabia
Xu You-Hua, Macau University of Science and Technology, China
Athanasia K. Papazafiropoulou, General Hospital of Piraeus "Tzaneio", Greece
Kinner M Patel, SUNY Upstate Medical University, United States
Pranas Serpytis, Vilnius University Hospital Santaros Clinics, Lithuania
Ahmet Baydin, Ondokuz Mayıs University, Turkey
Abdol Ghader Pakniyat, Kurdistan University of Medical Sciences, Iran (Islamic Republic of)
Siamak Sabour, Shahid Beheshti University of Medical Sciences, Iran (Islamic Republic of)
Sion Jo, Chonbuk National University Hospital, Korea, Republic of
Sameh Saad Mohamed Aziz, Qassim College of Medicine, Saudi Arabia
Saeed Shoar, Houston Methodist Hospital, United States
Sushant Chhabra, VPS Rockland Hospital, India
Andre Duraes, Universidade Federal Da Bahia, Brazil
Felice Achilli, Università Statale degli Studi di Milano, Italy
Vitalie Chiosa, State Medical and Pharmaceutical University, Moldova, Republic of
Andrzej Prystupa, Medical University of Lublin, Poland
Cheng-Chung Conrad Fang, National Taiwan University, Taiwan
Waynebond Lau, Thomas Jefferson University Hospital, United States
Dohern Kym, Hallym University Medical Center, Korea, Republic of
Brijesh Prajapat, Institute of Medical Sciences, India
Pramendra Prasad Gupta, B.P.Koirala Institute of Health Sciences, Nepal
Alexander E Berezin, State Medical University of Zaporozhye, Ukraine
Adriano Magli, University of Salerno, Italy
Antonino Agrusa, University of Palermo, Italy
Shaik Farid Abdull Wahab, University Sains Malaysia, Malaysia
Yilmaz Sezgin, Istanbul Educational Research Hospital, Turkey
Peter Dingyuan, Chongqing Emergency Medical, China
Andres Emmanuel, University of Strasbourg, France
Steven Fleming, Reference Health Laboratories, United States
Yavuz Hekimoglu, Namik Kemal University, Turkey
Mohd Hashairi Fauzi, School of medical science, Malaysia
Irina Iuliana Costache, University of Medicine and Pharmacy Iasi, Romania
Jacek Smereka, Wroclaw Medical University, Poland
Krishnamani, All India Institute of Medical Sciences, India
Leonardo Roever, Federal University of Uberlândia, Brazil
Marco Fiore, University of Campania Luigi Vanvitelli, Italy
Massimo Bonacchi, Università degli Studi di Firenze, Italy
Massimo Iacoviello, University of Bari, Italy
Forster Carola Yvette Charlotte, University Hospital Wurzburg, Germany
Cristian Mesina, University of Medicine and Pharmacy of Craiova, Romania
Gonzalo Luis Alonso Salinas, Hospital Ramon y Cajal, Spain
Mendsaikhan Naranpurev, United Family Intermed Hospitals, Mongolia
Mohamed Shinawi, Ain Shams University, Egypt
Bashir Ibrahim Al-Diri, University of Lincoln, United Kingdom
Francis I. Achike, California University of Science and Medicine School of Medicine, United States
Alexandra Chrisoulidou, Theagenio Hospital, Greece
Akira Sugawara, Tohoku University Graduate School of Medicine, Japan
Beata Modzelewska, Medical University of Bialystok, Poland
Rene Rodriguez Gutierrez, Medical School and University Hospital "Dr. Jose E. Gonzalez", Mexico
Selvihan Beysel, Başkent University, Turkey
Sasigarn A. Bowden, The Ohio State University College of Medicine, United States
B Vishwanath, Maharishi Markandeshwar Institute of Medical Sciences and Research, India
Rosario Marchese-Ragona, Padova University, Italy
Norhafiza Mat Lazim, School of Medical Sciences, Malaysia
Henrique Furlan Pauna, University of São Paulo, Brazil
Shirley Y. Su, The University of Texas MD Anderson Cancer Center, United States
Giovanni Conzo, University of Campania "Luigi Vanvitelli", Italy
Domenico Testa, University of Naples, Italy
Alfio Ferlito, University of Udine School of Medicine, Italy
Mohammad Waheed El-Anwar, Zagazig University Faculty of Medicine, Egypt
Manish Gupta, Maharishi Markandeshwar Institute of Medical Sciences & Research, India
Isaac Olusayo, Bowen University, Nigeria
Francesco Carelli, University of Milan, Italy
Jose Luis Turabian, Complutense University, Spain
Nathan Mendes Souza, Federal University of Minas Gerais, Brazil
Andrzej Prystupa, Medical University of Lublin, Poland
Anand R Shewale, Global Neurosciences Institute, United States
Maria Eugenia Velasco Contreras, National Autonomous University of Mexico, Mexico
Onur Ozturk, Ondokuz Mayis University, Turkey
Dilek Toprak, Sisli Hamidiye Etfal Training and Research Hospital, Turkey
Yuan Lu, Tongji University, China
Bejiqi Ramush, University Clinical Center of Kosovo, Kosovo
Dan Vodnar, University of Agricultural Sciences and Veterinary Medicine, Romania
Ana Maria Alexandra Stanescu, Carol Davila University of Medicine and Pharmacy, Romania
Michael Maes, University of Antwerp, Belgium
Ita B Okokon, University of Calabar, Nigeria
Mohamed S. Muneer, University of Khartoum, United States
S. H. Subba, AIIMS Bhubaneswar, India
JJ Jung Jin, Hallym University, Korea, Republic of
Stanley Chan Chun Wai, International Medical University, Malaysia
Elif Ates, Karadeniz Technical University, Turkey
Roksana Behruzi, McGill University, Canada
Marija Vrca Botica, Medical School University of Zagreb, Croatia (Hrvatska)
Eman Ahmed Alaa El-Din, Zagazig University, Egypt
George Paraskevas, Aristotle University of Thessaloniki, Greece
Andrea Porzionato, University of Padua, Italy
Zsolt Kozma, University of Pécs, Hungary
Cristiana Palmela Pereira, University of Lisboa, Portugal
Yavuz Hekimoglu, Yuzuncu Yil University, Turkey
Mohan Nagorao Pawar, #, India
Konstantinos Moraitis, National and Kapodistrian University of Athens, Greece
Hazem Mohammed Shaheen, Damanhour University, Egypt
Vilma Pinchi, University of Florence, Italy
Doxakis Anestakis, Aristotle University of Thessaloniki, Greece
Alexandre Valenca, Fluminense Federal University, Brazil
Ademir Franco, Brazilian Association of Forensic Odontology, Brazil
Luciana Caenazzo, University of Padova, Italy
Felice Carabellese, University of Study of San Marino Republic, Italy
Vesna Ambarkova, University Ss.Cyril & Methodius, Macedonia
Stefano Gitto, University of Bologna, Italy
Yury Evgeny Razvodovsky, Grodno State Medical University, Russian Federation
Abir Aissaoui Badraoui, Medicine of Monastir, Tunisia
Nadia Kotb, Cairo University, Egypt
Zvezdan Pirtosek, University of Ljubljana, Slovenia
Gregory Edie Halle-Ekane, University of Buea, Cameroon
Antonio Simone Laganà, University of Messina, Italy
Inaki Gonzalez-Foruria, Hospital Clínic de Barcelona, Spain
Philippos C Patsalis, Cyprus Institute of Neurology and Genetics, United States
Dimitrios Papoutsis, University of Michigan, United Kingdom
George Daskalakis, University of Athens, Greece
Jiaqian Luo, Cornell University, United States
Kanav Midha, Jaypee Brothers Medical Publishers (P) Ltd, India
Huan Yang, HuaZhong University, China
Mohamed Shazly, Menoufiya University, Egypt
Ashwin Sridhar, University College London, United Kingdom
Jozefina Casuscelli, LMU Klinikum der Universität, Germany
Eric Zhang, Donghua University, China
Medina Luis, University of Southern California, United States
Yongbao Wei, Fujian Medical University, China
Paulo Rodrigues, Hospital Beneficência Portuguesa de São Paulo, Brazil
Davide Campobasso, Civil Hospital of Guastalla and Franchini Hospital of Montecchio Emilia, Italy
Fröhner Michael, University Hospital Carl Gustav Carus, Germany
Serge Marinkovic, Hutzel Hospital, United States
Marco Grasso, San Gerardo Hospital, Italy
Search Our Journal
Journal Indexed In