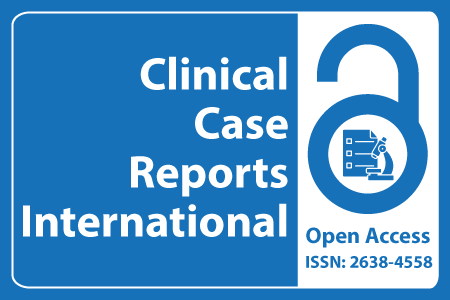 Journal Basic Info
Impact Factor: 0.285**
H-Index: 6
ISSN: 2638-4558
DOI: 10.25107/2638-4558
**Impact Factor calculated based on Google Scholar Citations. Please contact us for any more details.
Major Scope
Physical Medicine & Rehabilitation
Sleep Disorders & Sleep Studies
Palliative Care
Internal Medicine
Emergency Medicine and Critical Care
Nutrition and Dietetics
Surgical
Women's Health
Abstract
Catarina Cativo M and Patrícia Gonçalves
Department of Psychiatry, Fernando Fonseca Hospital, Portugal
*Correspondance to: Maria Catarina Cativo
PDF Full Text Case Report | Open Access
Abstract:
Introduction: Arachnoid cysts are rare central nervous system lesions formed by accumulation of cerebrospinal fluid within the arachnoid membrane, representing 1% of all space occupying lesions. They present mostly as benign incidental findings in brain imaging studies. Causality between arachnids and psychosis is yet to be completely established, but the number of published papers reporting their coexistence is increasing. Objectives: We aim to explore the association between arachnoid cysts and psychosis. Methods: Case report and naturalistic literature review on PUBMED database with keywords "arachnoid cyst" e "psychosis". Results: We report a case of a 26 year-old Caucasian male with an inaugural presentation of an acute and transient psychotic disorder with an incidental finding of an arachnoid cyst on Brain-MRI. In these cases factors suggesting strong causal association are: Abrupt onset, remission of symptoms following surgical treatment, presence of neurological changes, advanced age, absence of personal and family psychiatric history, compression of the temporal lobe and neighboring structures. Conclusion: Regarding arachnoid cysts and psychosis a causality relation is difficult to determine. Further controlled studies in this area, as well as further advancements in image logical techniques are necessary for better understanding of the potential causal relationship between psychiatric illness and organic brain lesions such as arachnoid cysts.
Keywords:
Cite the Article:
Catarina Cativo M, Gonçalves P. The Link between Arachnoid Cysts and Psychosis - Based on a Case Report. Clin Case Rep Int. 2022; 6: 1373.
Search Our Journal
Journal Indexed In