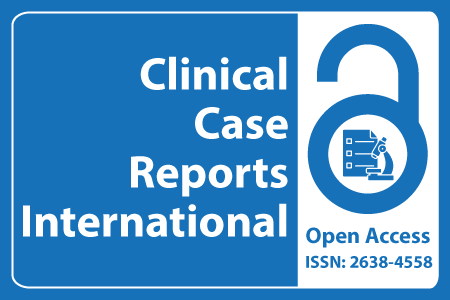 Journal Basic Info
Impact Factor: 0.285**
H-Index: 6
ISSN: 2638-4558
DOI: 10.25107/2638-4558
**Impact Factor calculated based on Google Scholar Citations. Please contact us for any more details.
Major Scope
Gastroenterology
Palliative Care
Family Medicine and Public Health
Pathology
Ophthalmology
Pediatrics
Neurology
Geriatric Medicine
Abstract
Bebek M, Blagaic V2*, Harni V, Bilandzic J, Stritov PB2 and Pavelic E

School of Medicine, University of Zagreb, Croatia
Department of Obstetrics and Gynecology, Clinical Hospital Sveti Duh, Croatia
Polyclinic Harni, Zagreb, Croatia
*Correspondance to: Vladimir Blagaic
PDF Full Text Case Report | Open Access
Abstract:
Introduction: Caudal Regression Syndrome (CRS) is a syndrome of unknown pathogenesis characterized by multiple anomalies involving genitourinary system, anorectal anomalies, defects in caudal part of vertebral column and various anomalies of lower extremities. Case Report: We present the case of CRS which is the first case of this syndrome after in vitro Fertilization (IVF) to the best of our knowledge. Female patient age 40, who suffered from hyperthyroidism and was on Propylthiouracil (PTU) therapy, was treated for secondary infertility and had undergone IVF and Embryonic Transfer (ET). In the 13th week of pregnancy cell free DNA test was performed due to nuchal translucency measurement of 2.9 mm, which showed no abnormalities. In the week 18 sonographic examination showed multiple fetal anomalies affecting mainly the caudal part, accompanied by decreased fetal movements with preserved upper extremity movements. Also, Single Umbilical Artery (SUA) was detected. Conclusion: Numerous theories regarding pathogenesis of CRS have been proposed. Two of them - vascular steal theory and possible dysfunction of caudal mesoderm – have gained most attention. However, pathogenesis of CRS remains incompletely understood. Possible connection between IVF or PTU therapy and CRS development should be taken into account until proven otherwise.
Keywords:
Caudal regression syndrome; Structural malformation; In vitro fertilization; Propylthiouracil
Cite the Article:
Bebek M, Blagaic V, Harni V, Bilandzic J, Stritov PB, Pavelic E. Caudal Regression Syndrome – Example of Structural Malformation with Normal Karyotype after IVF. Clin Case Rep Int. 2023; 7: 1589.